Will Current Accounting Jobs Become Obsolete in a Decade?
Dates & Times
London, 12 Oct 2023 - 14:00
New York, 12 Oct 2023 - 09:00
San Francisco, 12 Oct 2023 - 06:00
New Delhi, 12 Oct 2023 - 18:30
Description
Getting Started with AI Use-Cases in Accounting
Accounting has become increasingly complex in recent years, and Finance and Accounting teams are pressured to deliver more value with fewer resources. To stay competitive, organizations must adopt new technologies and strategies to optimize their operations and maximize their impact. So, how can Finance and Accounting teams apply these technologies within their own organization to be well-positioned to continuously adapt amidst new challenges and stay ahead of the curve?
Join this Virtual Masterclass to learn:
1. AI Implementation for Real-time Continuous Close: Discover how some organizations are now successfully employing AI to mitigate risks and reduce errors in real-time, enabling smoother operations and improved accuracy.
2. Transitioning from Reactive Data Reconciling to Proactive Analysis: Explore state-of-the-art accounting practices that facilitate the shift from reactive data reconciliation to proactive analysis. This shift is essential to thrive in today's fast-paced and dynamic business environments.
3. The Imperative of AI and Best-of-breed Technologies: Understand why best-of-breed technologies, such as AI, have evolved from optional to essential. They are crucial for maintaining competitiveness and optimizing resource utilization effectively.
If you would like to join other senior finance and accounting professionals to discuss this business-critical area email sally@sharedserviceslink.com to request a place.
Places are limited.
Speakers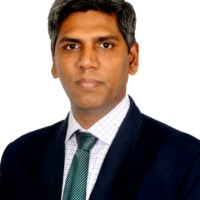 Swaminathan Subramanian
Product Strategy - CFO Tech at HighRadius
Sponsors